For many people, a pet is part of the family. Indeed, for some, an adopted pet may be the only live-in family member they have. The fact is that many people would like to treat their animals with the same respect afforded to humans, both whilst they are living and when they have departed this life.
I was reading an article about the growing popularity of pet cemetaries and crematoria, in which plots are being purchased for whole families, including the dog, the cat, the canary and a pony. It seems that your choices are full burial, burial for ashes or scattering of ashes following cremation.
The focus of the article is a cemetary in Cornwall, which is a beautiful county but can be a bit remote for visitors from most of Britain. However, there are many other approved locations covering most counties in England and a few more throughout the rest of the UK. These can be found on the Association of Private Pet Cemeteries and Crematoria website.
Following further research, I chanced upon a page on the government website with advice for creating and registering your own pet cemetary. This doesn't apply, though, if you are burying your own pet in your own garden. The burial of your pet or their ashes is usually allowed throughout Britain.
Please view our collections of pet ashes urns.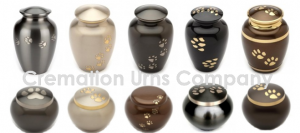 Related posts: